RAQBALL is a new team sport created in France that is played with rackets and a ball, in teams of 6 players (3 in play and 3 replacements) on a court 20 m by 10 m in size.
The duration of a match is 20 minutes, played in 4 periods of 5 minutes each.
Without contact between players, the aim is to attack the opposing team's target and score points, whilst defending your own target.
THE PORTABLE COURT EQUIPMENT RB2.0 FOR RAQBALL is a complete ready-to-play package comprising 2 storage cases with 2 target board and support modules, 12 rackets, 12 balls, 12 bibs, 8 court marking strips, the assembly instructions and the rules of the game.
ADVANCED TECHNOLOGY FOR HIGH-PERFORMANCE SPORT EQUIPMENT
Made in France using eco-friendly materials, in a factory employing personnel with disability.
High degree of social integration through work for their employees with disability.
Part of a plan of long-term development.
IN FRANCE, MANY EVENTS WITH RAQBALL HAVE ALREADY TAKEN PLACE IN PARTNERSHIP WITH LOCAL AUTHORITIES, AS WELL AS WITH ENTITIES IN THE PRIVATE SECTOR. THEY HAVE GENERATED A REAL BUZZ OF INTEREST!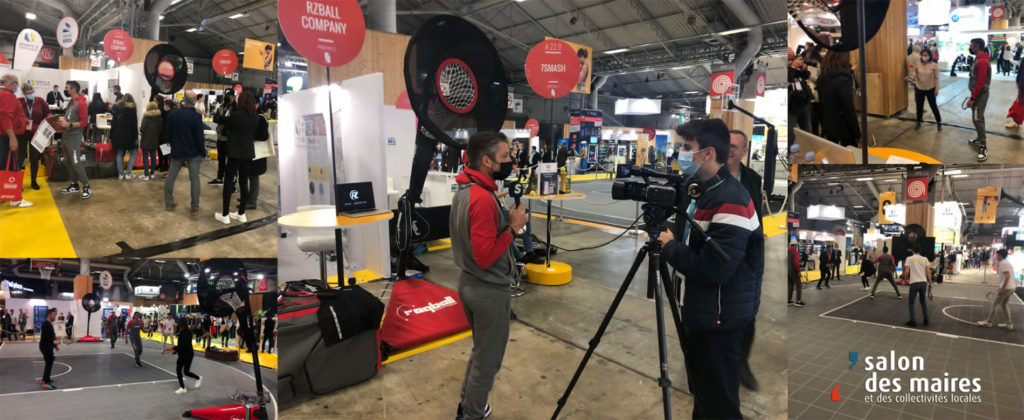 Very pleasantly surprised and happy to have discovered Raqball. A new team racket sport created 100% here in France's Alpes-Maritimes, and developed by a young start-up based in Sophia-Antipolis. The equipment required to play the game, designed to be easily portable, is assembled in a factory in Antibes employing personnel with disability. Several local authorities in the Alpes-Maritimes have already chosen Raqball for their schools.
Éric Pauget, National Assembly Deputy for Alpes-Maritimes
Raqball is a leisure activity that allows the development of key technical, tactical and physical abilities. The club offers this activity for novices to discover tennis, and as physical training for experienced tennis players. 
Samia Medjahdi, Manager, La Raquette Tennis Club
I find it extraordinary to be able to practice the activity on any surface, to adapt to the terrain. It is a group racket sport that I use as much in my teaching for all audiences as in the training of competitive players. It should be noted that the equipment we use is of exceptional quality.
Olivier Roux, Manager, the Caporoux Tennis Coaching Academy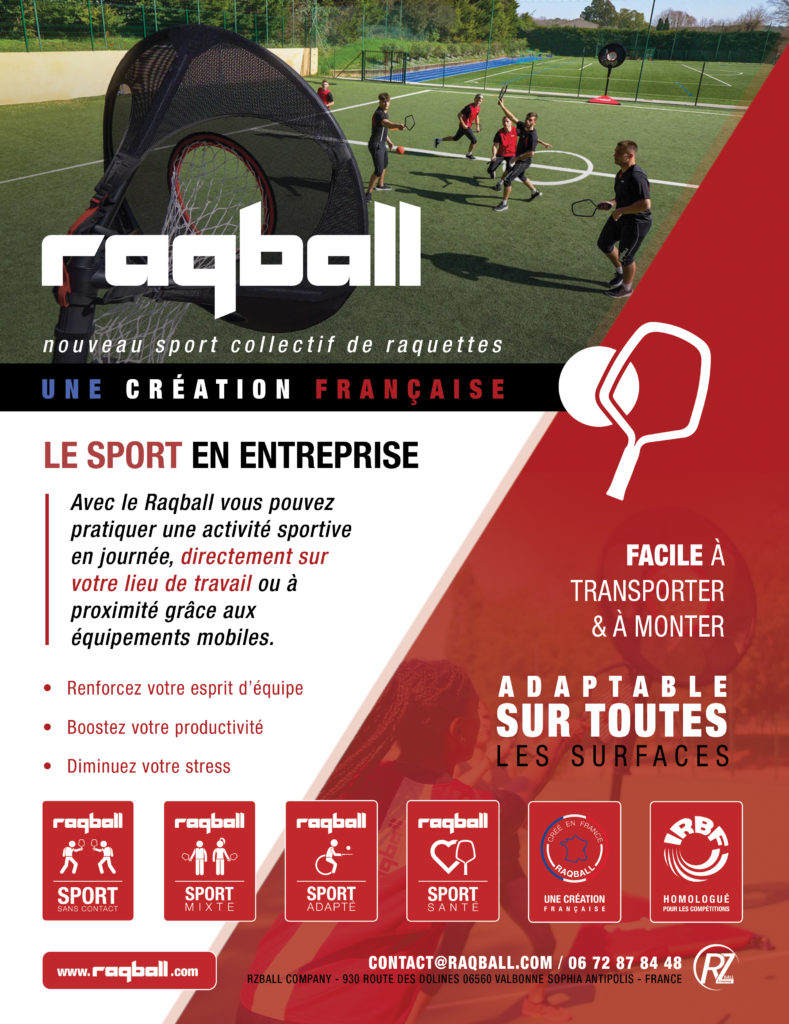 THE PORTABLE COURT EQUIPMENT FOR RAQBALL IS SUITED TO ANY INDOOR OR OUTDOOR SPACE IN YOUR BUSINESS
Installing, building or extending traditional sport facilities always requires a full or partial acquisition of land, as well as important financial commitments.
With RAQBALL, thanks to its portable court equipment that is easy to dismantle, any surface can be prepared for the game without alterations.
OBJECTIVE: INTEGRATING RAQBALL IN BUSINESSES