RAQBALL : New collective raqqet sport
Football, rugby, basketball, handball… At the beginning of all these sports we often find individual or group activities whose motivations are not always understood, and whose origins do not generally attract unanimous acceptance.
A little too much innovation arouses sometimes more mistrust than admiration.
And yet, it is these outstanding innovators who gave us the sports we all know today and that bind millions of people around the world.
When we look at it, we see that they often start in a similar way.
Football starts around 1860 on British grass fields, conceived by the London upper classes looking for an elite sport that will be practised by the well-to-do.
In 1891, a PE teacher in Massachusetts invents basketball to keep his pupils in good form during winter.
In 1898, haandbold is born, according to some historians, on a small pitch in Denmark.
In all cases, someone had an idea that was to change their own life, without thinking that it was also going to change the lives of millions of people. They will all form incredible teams. They will all think, experiment. And from their small labs will come rules, players, clubs, governing bodies, manufacturers of sport equipment and products and an economic activity in expansion today.
SPORT A MAINSTAY OF THE WORLD'S ECONOMY
A true engine of the economy, the sport sector generates around 2% of the world GDP (close to 1,200 billion euros)*.
Sustained by an ever-growing number of professionals, amateurs, charitable fund-raisers, and consumers more and more aware of the benefits of practising sport, this sector of the economy has seen a massive growth during the last 20 years. Its recorded growth rate of GDP is double of that of the overall world GDP.
The sport sector comprises three areas:
Sport organisations and governing bodies (federations, clubs, leagues, unions…), which represent half of the sport market;
Products associated with sport (equipment, associated products, specialist digital platforms), which represent 30% of the market;
Sport marketing (sponsorship, events, ticket sales, trademarks and image rights, fan experiences…), which represents 20% of the market.
*Data from the Observatory of Sport Economy established in 2015 and attached to the French Ministry for Sports.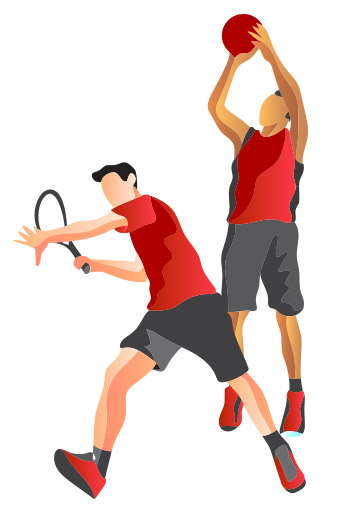 CONSUMERS LOOKING FOR NEW THINGS
As in their travelling habits or professional activity, those who practise sport today are not the same as those from days gone by. They evolve year on year, depending on their expectations and needs.
Many studies done recently have revealed certain trends:
Introduction following the notion of healthy sport, which offers a true alternative to a sedentary lifestyle.
Next, the new sport participant wants things to adapt to themselves, to the pace of their own life, and not the reverse (flexibility in the form of activity, times, setting, format…).
In summary, there is a tendency towards new forms of sport, with a preference for sports that are more fun, outdoors, and closer to nature.
It is participation in sport in an informal manner.