RAQBALL is a new collective sport played with rackets
PORTABLE COURT EQUIPMENT RB2.0 – ©2022
RAQBALL, A GROUND-BREAKING SPORT
RAQBALL is a new collective sport played with raqqets (rackets). It was created by French artist Chris Oven.
It is played on a court 20 m by 10 m in size, with teams of 6 players (3 in play and 3 replacements). The playing time is 20 minutes, divided into 4 periods of 5 minutes each. Each player is allowed to play the ball with a raqqet. Passes, drib'ups (dribbling) and a 1ground (bounce on the floor) may be performed during play to attack or defend the targget (target). The aim is executing a targ (shot) on the targget (target), which scores points.
A game involving dexterity and strategy, RAQBALL is both fun and multifaceted, and can be practised by players of all ages and skill levels.
RAQBALL, a game for all, with multiple benefits
Passing, drib'up, 1ground, as well as movements to progress and to outwit your opponents, make of RAQBALL a combination of dexterity, technique, precision, intensity, and free expression. Sharing skills and techniques with other sports, it allows each participant, whether a committed athlete or an amateur, to express their talent and to show their physical skills.
RAQBALL, a driver for green sustainability in the world of sport
Installing, building or extending traditional sport facilities always requires a full or partial acquisition of real estate, as well as important financial commitments.
With RAQBALL, thanks to its portable court equipment that is easy to dismantle, any surface can be prepared for the game without alterations. Local authorities, owners of 85% of sport venues, with facilities that are quite often overused and sometimes rundown, are always in search of technological innovation and excellence in areas of social and environmental responsibility.
RAQBALL is in tune with the principles of sustainable development.

RAQBALL, a ground-breaking market
What is the cost of all the equipment? How can operating costs be optimised?
At times of tightening budgets, local authorities express the view that the RAQBALL portable court equipment RB2.0 concept is a real solution offering to many people a space to practice sport at a reasonable cost.
The business world and particularly the leisure sector (holiday centres, hotels, campsites), as well as private individuals, are equally convinced that the RAQBALL portable court equipment is a winner for this new sport. RAQBALL offers especially an easy use of its equipment with a reduced purchase cost.
RAQBALL, a sport, and a brand!
A true sport, RAQBALL® is also a registered trademark.
Its modern entrepreneurial strategy, generator of added value, enables it to create sporting equipment that bind a whole community. As a product, developing loyalty and trust, as well as establishing a guarantee of authenticity and quality for the customer, are RAQBALL's aims.
The brand represents a genuine certificate of origin where the imagination and the creativity have no limits.
MISSION AND PURPOSE OF RAQBALL
RAQBALL, AN INCLUSIVE SPORT
This new discipline conveys the basic values of sport: sharing and respect for others. To ensure people with disabilities have the opportunity to experience adapted sport activity, RAQBALL is also developing an inclusion policy through sport within deprived areas, associations supporting children, humanitarian missions through sport, which shows its strong societal commitment.
Participation / Respect / Innovation / Mobility – (R.I.M.)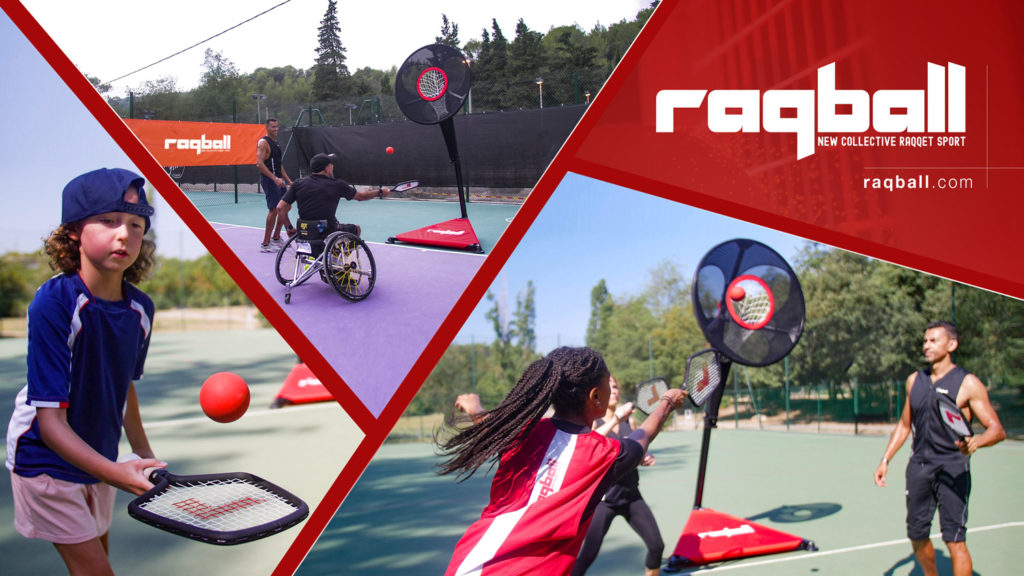 Disabled people
Deprived areas
Humanitarian missions through sport
Health-related sports
Children support association
Our long-term vision is to become a universal sport and an Olympic sport.