RAQBALL: THE SPORT FOR COMMUNITIES AND SCHOOLS
RAQBALL, THE NEW TEAM RACKET SPORT SUITED TO THE SCHOOL
Like in other team sports played with a ball, players holding a racket dribble, pass, work together and shoot at the target. The aim is to win the match. A team achieves victory by scoring the highest number of points from shots on target.
A sport requiring not only dexterity, strategy and precision, but also intensity, it suits both families and committed competitors.
A game involving dexterity and strategy, RAQBALL is both fun and multifaceted, and can be played by pupils of all ages and skill levels from the early school years.
For the school, the rules are suited to make the game accessible and appealing.
It is possible to keep a class of 24 pupils all active at the same time with a range of different exercises. Pupils can handle the racket and the ball in a variety of situations. They learn the different outcomes that their movements produce, while developing their sense of orientation and capacity to concentrate.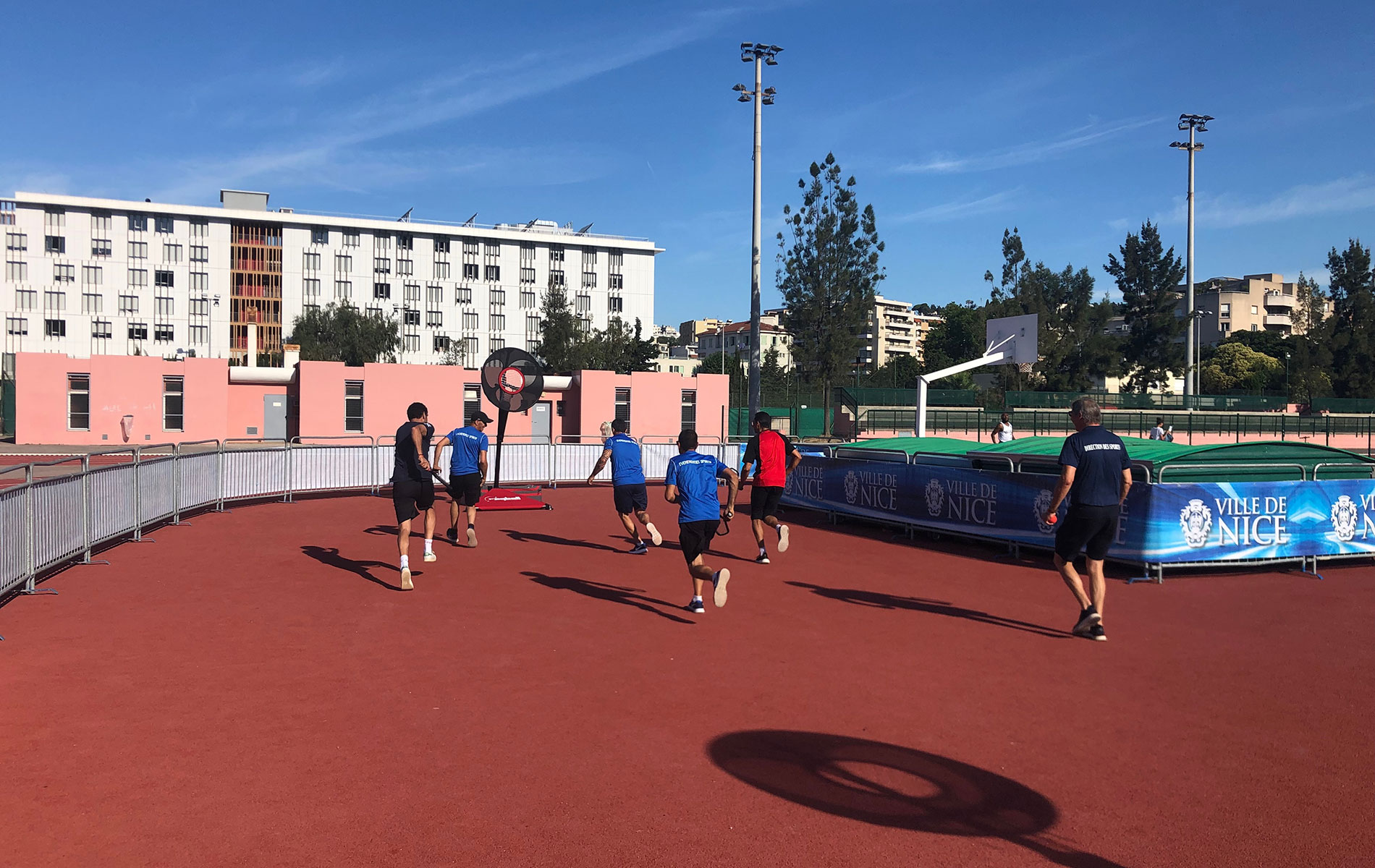 RAQBALL IS A SPORT INVOLVING DEXTERITY AND STRATEGY THAT IS ALSO FUN.
RAQBALL IS SUITED TO ALL AGES
from primary school pupils to seniors, including people with disability.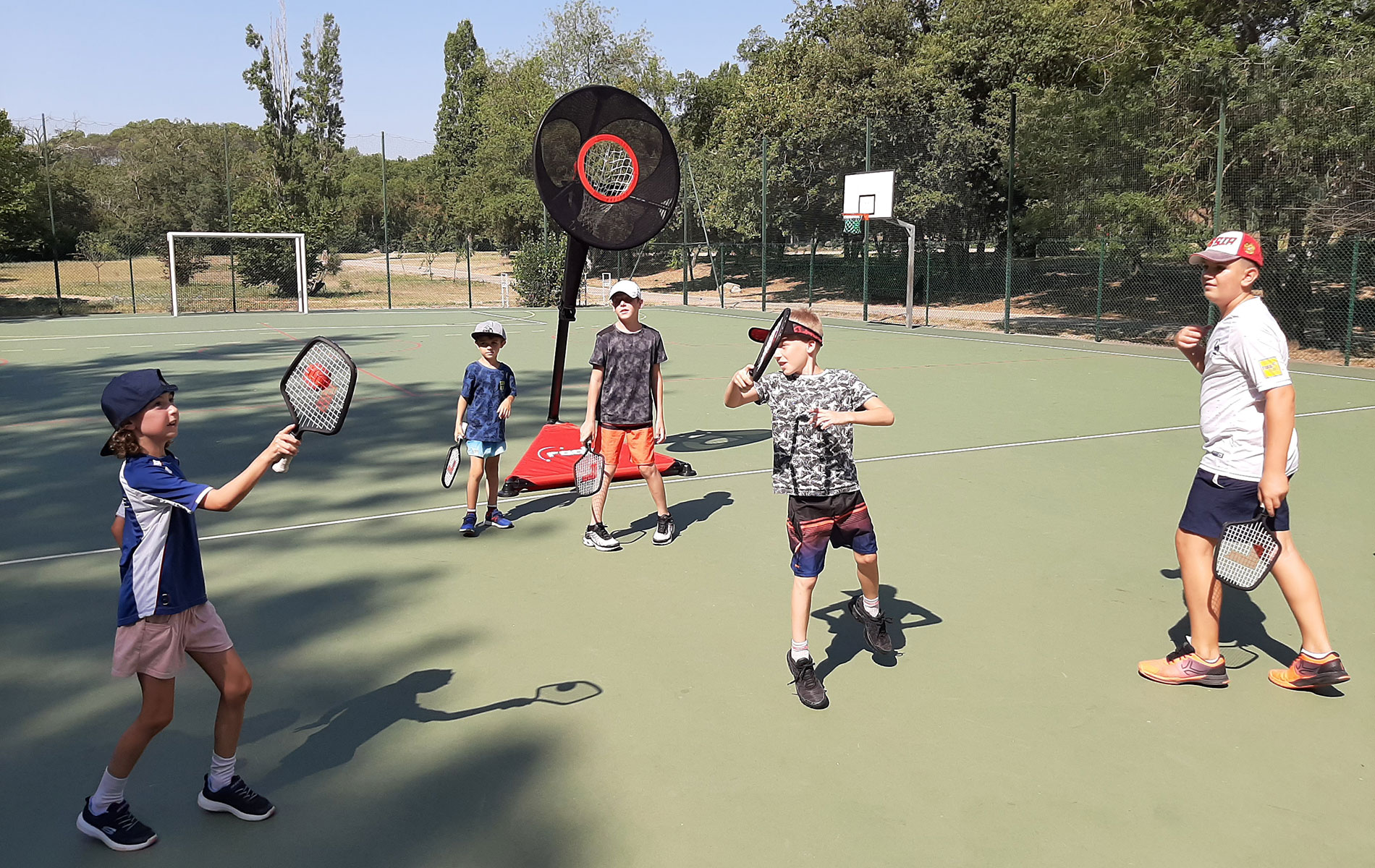 RAQBALL IS PLAYED ON A SURFACE WITHOUT THE NEED FOR A PERMANENT INSTALLATION, OFFERING THE FOLLOWING ADVANTAGES:
1. No permanent change of use of the space where the game is played; 2. Played either indoors or outdoors, and on any type of surface; 3. With a playing area of 20 m by 10 m, it can share space dedicated to other purposes; 4. Can be shared with different local services and amenities such as schools, out-of-school clubs, youth centres, centres for assistance to people with disability, events, and clubs.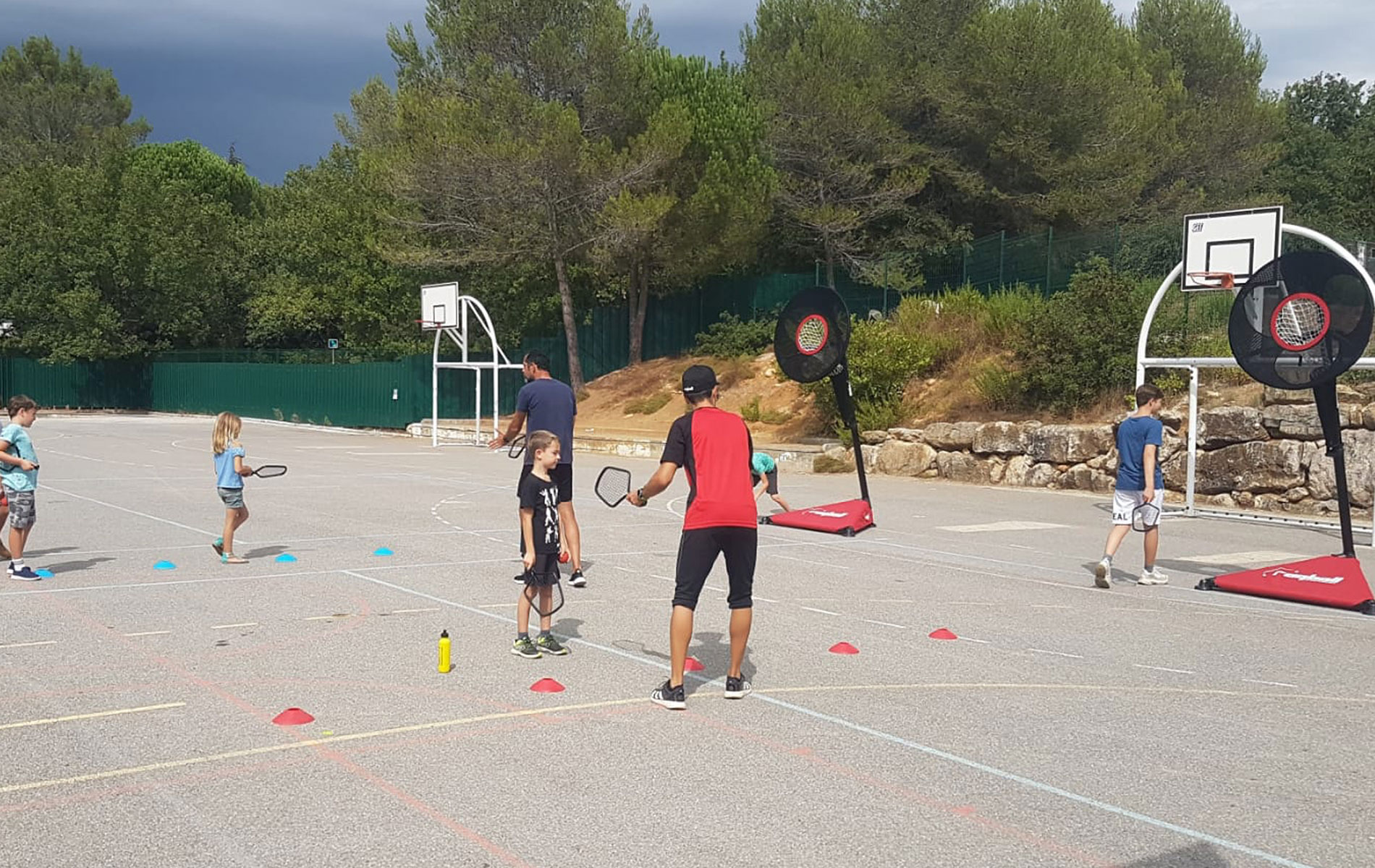 RAQBALL OFFERS NEW SOLUTIONS IN A RANGE OF AREAS:
• Thanks to its portable equipment, it is well suited to the school playground. • Rules that do not allow direct contact between players, only playing the ball with the racket. • At a time when local authority budgets are under pressure, RAQBALL offers to many people a real solution for the practice of a sport at a modest cost.
The PORTABLE COURT EQUIPMENT used for RAQBALL is made in France using eco-friendly materials, in a factory employing personnel with disability.
IN FRANCE, MANY EVENTS WITH RAQBALL HAVE ALREADY TAKEN PLACE IN PARTNERSHIP WITH LOCAL AUTHORITIES, AS WELL AS WITH ENTITIES IN THE PRIVATE SECTOR. THEY HAVE GENERATED A REAL BUZZ OF INTEREST!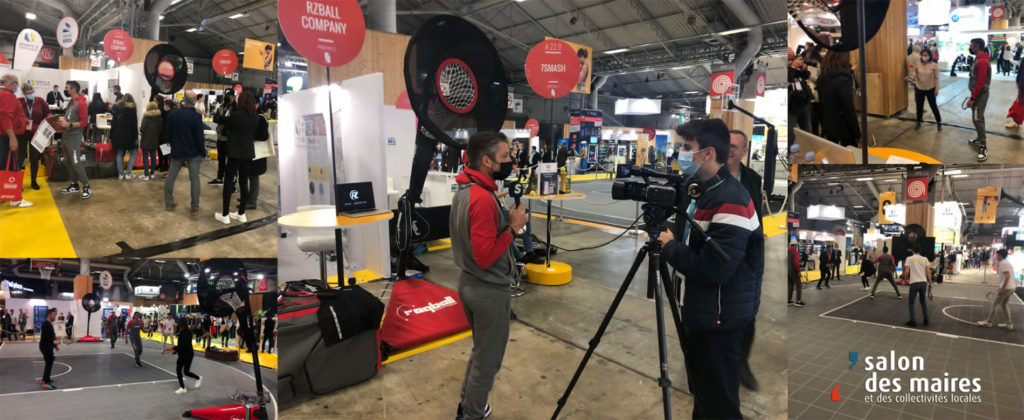 Very pleasantly surprised and happy to have discovered Raqball. A new team racket sport created 100% here in France's Alpes-Maritimes, and developed by a young start-up based in Sophia-Antipolis. The equipment required to play the game, designed to be easily portable, is assembled in a factory in Antibes employing personnel with disability. Several local authorities in the Alpes-Maritimes have already chosen Raqball for their schools.
Éric Pauget, National Assembly Deputy for Alpes-Maritimes
Raqball is a leisure activity that allows the development of key technical, tactical and physical abilities. The club offers this activity for novices to discover tennis, and as physical training for experienced tennis players. 
Samia Medjahdi, Manager, La Raquette Tennis Club
I find it extraordinary to be able to practice the activity on any surface, to adapt to the terrain. It is a group racket sport that I use as much in my teaching for all audiences as in the training of competitive players. It should be noted that the equipment we use is of exceptional quality.
Olivier Roux, Manager, the Caporoux Tennis Coaching Academy
PORTABLE COURT EQUIPMENT FOR RAQBALL: THE SOLUTION FOR LOCAL AUTHORITIES
Installing, building or extending traditional sport facilities always requires a full or partial acquisition of land, as well as important financial commitments.
With RAQBALL, thanks to its portable court equipment that is easy to dismantle, any surface can be prepared for the game without alterations. Local authorities, owners of 85% of sport centres in France, with facilities that are quite often overused and sometimes run-down, are always in search of technological innovation and excellence in areas of social and environmental responsibility.
OBJECTIVE: MAKING RAQBALL A PART OF THE OFFERING OF ALL LOCAL AUTHORITIES IN FRANCE
LOCAL AUTHORITIES, DEPARTMENTS AND REGIONS THAT HAVE ADOPTED OR SUPPORT RAQBALL